One evening in 1858, the Emperor Charles Louis Napoléon Bonaparte (Napoleon III) and the Empress Eugénie de Montijo were visiting the Opera House located on Rue le Peletier, when an assassination attempt was made upon the Emperor. Very soon after this, he decided a new opera house should be constructed – one closer to where he lived, so that he would not have to run such a gauntlet to get to his beloved opera.
This decision wasn't out-of-the-blue. It corresponded with a movement the Emperor had already put in motion: the great Parisian reconstruction of the second French Empire. Primarily orchestrated by Baron Georges-Eugène Haussmann, hundreds of new and opulent buildings were built, with larger ones strategically placed at intersecting streets to show off their full splendour.
In 1860, an open competition was held to design a new Paris Opera House. The winner was Charles Garnier 1825-98), and in 1861, with a beginning budget of 15 million Francs ($3,280,500.00 Canadian dollars) construction began.

Though there were few problems while building, those which were encountered were annoying and costly. The first and most well known difficulty showed up early in the game: the underground lake. This was no peewee koi pond -- it was enormous, with quite a strong current, and in order to build over it, the lake had to be pumped as dry as possible for eight months, day and night. Even today, the lake level is monitored constantly for safety precautions. Unfortunately, because of the Franco-Prussian war (1870-71), construction was delayed for a year, but finally, in 1875, the project was finished. (The completed building's statistics can be found here.)
Garnier's creation was the first of its kind in many ways. When asked by the Empress whether the style would be Louis XIV, Louis XV or Louis XVI, Garnier replied it would be the Napoleon III style.
Marble and mosaics were not commonly used in Paris before Garnier's time. He often travelled throughout Europe looking for specific materials, which frequently required re-opening very old quarries. Also, he used techniques to cut back on expenses, such as electroplating bronze statues with gold instead of using solid gold. He also discovered that some surfaces intended to catch the light merely needed gold highlights or could just be painted.
The exterior was designed in the Baroque style, intended to improve sight-lines by placing supporting columns paired together, instead of in a ring. The inside was sumptuous and, for the time, unique in style. It has since been so often imitated, that we tend to take that scale of opulence for granted in buildings of this type. But the painted ceilings, marble columns, oodles of chandeliers in all sizes, gilded statues, and the thirty meter high staircase still take a person's breath away. It was – and still is --undoubtedly a place for theatregoers to see and be seen.
Garnier's work tastefully incorporated many of the elements of art and principles of design we're so familiar with. Inside and out, form is displayed in the many statues, such as Apollo's Lyre (located on the very top of the roof). And no matter where you look, there's a textured surface somewhere – such as the polished marble, or the intricate designs carved into the columns.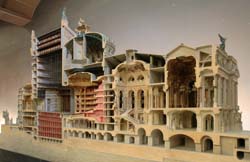 Click for a cutaway scale model of the Palais Garnier, and prepare to go "Wow."
(Note: Large image file)